Sexta-feira, 13 de Junho de 2008
Attention, Upper East Siders: "Little J" has not left the building. 

This is the latest coming out of Camp Gossip Girl after the Hollywood Reporter reported this morning that executive producer Josh Schwartz and his crew are currently working on a Gossip spinoff, most likely surrounding Taylor Momsen's character, Jenny Humphrey (aka Li'l J), who was the subject of a spinoff series for the Gossip books.
I just emailed Schwartz himself to get the real story, and he tells me the rumors are not true:

"Not sure how this got out there, but no plans for spinoff at this moment," Schwartz tells me. "The books do have a spinoff, but we have nothing in the works right now other than making sure season two gets off to a great start."
Holla! Personally, I'm thrilled to hear that Schwartz is keeping his creative mojo focused on the two shows we already know and love: Chuck and Gossip Girl, you?
You know you love it.
XOXO,
TV Gossip Girl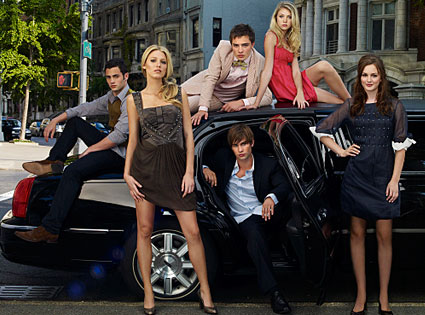 credito /credit to : E! Online
Na 4 temporada da serie Entre vidas ( Ghost Whisperer ) protagonizada por Jennifer Love Hewitt terá 1 novo actor no elenco que é : Jamie Kennedy
 Jamie Kennedy conhecido pela sua prestação na serie"Criminal Minds"  desempenhara o papel de  Eli, um estudante de psicologia que será o  novo companheiro de Melinda ocupando o vazio deixado pelo professor Rick Payne (intrepretado  por Jay Mohr), que ainda aparece durante os primeiros episódios desta quarta temporada.

creditos e tb para saberem mais : TVGuide  
Terça-feira, 10 de Junho de 2008
O actor Francis Capra conhecido pela sua prestação na  série Veronica Mars vai participar no elenco de heroes.
Ele desempenhara o papel de  Jesse uma pessoa ruim .
credito e para saberem mais  /credit to : TVGuide
Domingo, 8 de Junho de 2008
O actor Dennis Hopper vai integrar o elenco da serie Crash.
O actor  vai dar vida a Ben, um produtor musical que no passado era muito famoso e venerado e agora aguarda uma nova oportunidade para ter sucesso.
Apesar de ser mais conhecido como ator e cineasta, a verdade é que Hooper não é desconhecido na televisão e, de facto, apareceu em vários episódios de 24 e participou também em Las Vegas entre muitas outras aparições

credito/credit to : TV Guide 
Sábado, 7 de Junho de 2008
O actor Jimmy Smits dps do maus resultado da serie Cane  que foi cancelada pela CBS e em k ele participava vai participar em 10 de 12 episódios da 3 temporada da serie 'Dexter'.
O actor latino intrepretara Miguel Prado um ambicioso ajudante de fiscal que pertence a uma das familias mais poderosas de Miami.