Quinta-feira, 29 de Maio de 2008
O site Radio Times pos 1 inquérito a fim de saber qual dos actores k participam em series televisivas tem  pior dos sotaques .
Em 1 lugar ficou a actriz : Michelle Ryan , protagonista da serie 'Bionic Woman'.
Em 2 lugar ficou a actriz Eddie Izzard devido ao seu trabalho : 'The Riches'.
Em 3 ficou Anna Friel pela sua prestação na serie : 'Pushing Daisies'  à frente de  Hugh Laurie em  Dr. House e, depois, em 5 lugar ficou  Ian McShane pela sua intrepretação na serie  'Deadwood'.
creditos : BBC News.
Quinta-feira, 20 de Março de 2008
Para tds os k veem a serie sabem k a estela da serie Dr. Gregory House tem com ele 2 grandes vicíos : Vicodin e tb novelas de hospitais.
Agora House terá ao seu cuidaddo um paciente muito especial , ou seja , a sua estrela preferida de tv k é : o actor Jason Lewis.
Jason Lewis é conhecido pela sua prestação em series como : "Sex in New York," "Five Brothers" entre outros.
Na serie Dr. Gregory House fará de  tudo para cuidar do paciente, apesar da decisão da Cuddy.
O mais engraçado será msm ver o dr . em comparação com outros pacientes, deixar-se levar pelo paciente.
creditos : Pizquita
Quinta-feira, 13 de Março de 2008
Numa recente entrevista a revista británica o actor Hugh Laurie mais conhecido pela sua personagem na serie doctor House o actor afirmou k para se aproximar do personagem e para o preparar bem ele tomou  Vicodin o forte analgésico para que o Dr. Gregory House está viciado.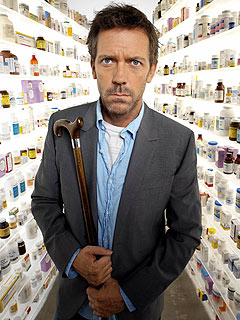 A revista Radio Times  ele até disse :
"I wouldn't recommend it — we have to be careful," Laurie, 48, tells Britain's Radio Times magazine, "But then again … if you're not in pain it gives a floaty, pleasurable feeling."
Na entrevista diz k não costuma seguir a serie em k entra e até disse msm k odeia ver-se , mas é ainda pior audiência seu sotaque americano…
Laurie diz que ele não trouxe sua família, que continua a viver em Londres, para estar com ele em Los Angeles devido a receios de que esta possa hex o show do executado.
Para lerem mais e tb creditos em inglês : http://tvwatch.people.com/2008/03/11/house-party-hugh-laurie-experimented-with-vicodin/?xid=rss-topheadlines