Domingo, 20 de Julho de 2008
A serie Gossip Girl começa no canal CW em 1 de setembro e aqui fica 1 novo trailer da nova temporada que promete.
No video podem ver  Blair disser  que "Tudo é como um Cleanex, descartável."
Sexta-feira, 13 de Junho de 2008
Attention, Upper East Siders: "Little J" has not left the building. 

This is the latest coming out of Camp Gossip Girl after the Hollywood Reporter reported this morning that executive producer Josh Schwartz and his crew are currently working on a Gossip spinoff, most likely surrounding Taylor Momsen's character, Jenny Humphrey (aka Li'l J), who was the subject of a spinoff series for the Gossip books.
I just emailed Schwartz himself to get the real story, and he tells me the rumors are not true:

"Not sure how this got out there, but no plans for spinoff at this moment," Schwartz tells me. "The books do have a spinoff, but we have nothing in the works right now other than making sure season two gets off to a great start."
Holla! Personally, I'm thrilled to hear that Schwartz is keeping his creative mojo focused on the two shows we already know and love: Chuck and Gossip Girl, you?
You know you love it.
XOXO,
TV Gossip Girl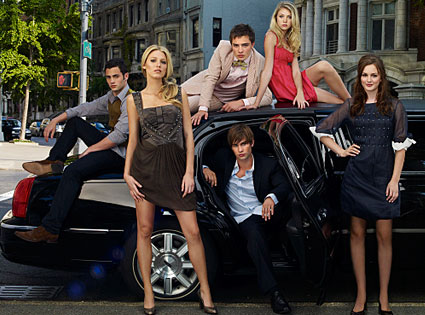 credito /credit to : E! Online
Sábado, 12 de Abril de 2008
A serie Gossip Girl emtidida pela CW vai regressar no dia  21 de Abril aos e.u.a.
Apesar de no começo da serie nao ter tido mt sucesso o certo e k agora devido  à popularidade da Web tem tido bons resultados.
Axo k vai ter 1 maior sucesso devido  à  um cartaz promocional .
No cartaz pode - se ver a imagem de Serena e Blair  quando estes tavam noivos isto aconteceu no primeiro episódio em que descobrem que Serena Blair havia  o traído com Nate.
Foi 1 dos acontecimentos mais importantes da série poix foi a partir dai k se descobriu pk o actor deixou os seus amigos no passado ...
Aqui fica o video da campanha :
 creditos : TVGuide
Sexta-feira, 11 de Abril de 2008
Chace Crawford, que interpreta o personagem Nate no seriado Gossip Girls, terminou o namoro com a cantora Carrie Underwood por mensagem de celular, segundo a revista People.

Chace Crawford interpreta Nate no seriado Gossip Girl
A cantora disse à publicação que o fim do relacionamento foi mútuo. "Estamos bem, terminamos por mensagem de celular. Simplesmente não deu certo. E nós dois sabíamos que não estava funcionando, sem nenhum ressentimento", contou.
Carrie Underwood venceu a quarta temporada do American Idol e é uma das grandes revelações da música country.
Recentemente Chace Crawford teve seu nome envolvido em um suposto affair homossexual com o ex-'N Sync JC Chasez.
creditos : http://exclusivo.terra.com.br/interna/0,,OI2731566-EI1118,00.html
Terça-feira, 25 de Março de 2008
Michael Ausiello o colunista do site TV Guide disse k 1 dos rapazes da serie Gossip Girl no dia 21 de abril saira do armario .
Who? Can't say. Won't say. It's too good a surprise. I will, however, offer five tantalizing clues.

Pistas sobre que personagem masculino que se declarara gay:
 - Essa pessoa pode ser ou não pode na foto de cima ;
  - Isso vai afectar a vida de pelo menos três pessoas ;
 - Na serie  Dan tem um ligeiro desvio… mas não é um fator determinante. Uma falsa pista? Talvez. Talvez não.
Para saberem mais : TV Guide